Show reception April 21, 6 p.m.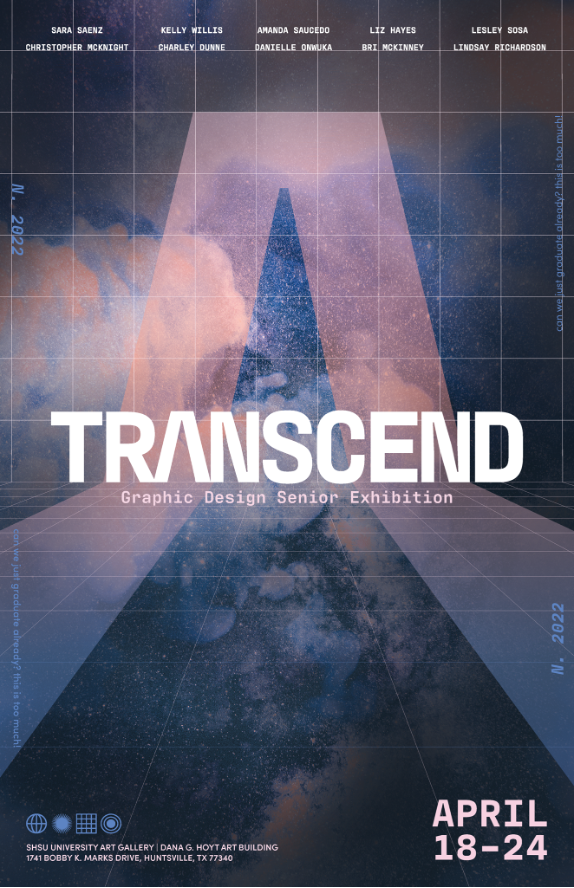 "We are Sam Houston State University's 2022 graduating class of Graphic designers. Together, We have been surpassing expectations, conquering, and are ready to finally TRANSCEND beyond all limitations!"
The Sam Houston State University Department of Art presents the 2022 Graphic Design Senior Exhibition. The Graphic Design Senior Exhibition is the culminating event for this year's group of graphic design majors. As part of the Senior Studio in Graphic Design class, students prepare a body of work suitable for a designer's portfolio. This process includes the development of new work as well as the refinement of existing work. The work of the 2022 Senior class will be juried by Henry Ngo, President of the AIGA Houston chapter. This year's show is open to the public and can be viewed in the SHSU University Art Gallery, April 18th through the 24th.
Designers include Amanda Saucedo, Briana Mckinney, Charlotte Dunne, Liz Hayes, Sara Saenz, Kelly Willis, Lesley Sosa, Lindsay Richardson, Chris Mcknight, and Danielle Onwuka.
For more information, the Department of Art office can be reached at (936) 294-4311.